Stages Dash Thoughts
Introduction
I was long overdue for a new cycling computer and so when I unwrapped the present that my wife got me for my birthday I was pretty excited to see a Stages Dash staring right back at me.  I had already read DC Rainmakers review of the device and felt like this was something, along with the online platform, which could help me take my training to the next level.
Unfortunately, after a few weeks of use, I have really mixed thoughts on this thing.  I wanted to make this post, not to really reflect poorly on Stages but to give perhaps a different perspective to what others have posted.  The unit excels at many things but in other aspects it is not quite there yet.  I really like stages and have been super happy with their power meters.
Nailed it
Packaging – You get a little carrying case to protect the unit.  Nuff said.
Workout integration – yep, send workouts to the head unit and create a screen that will step you through the workout.  Hold 500 watts for 1 minute, then rest 30 sec at 200 watts.  Check.  This is probably the most impressive feature of the device.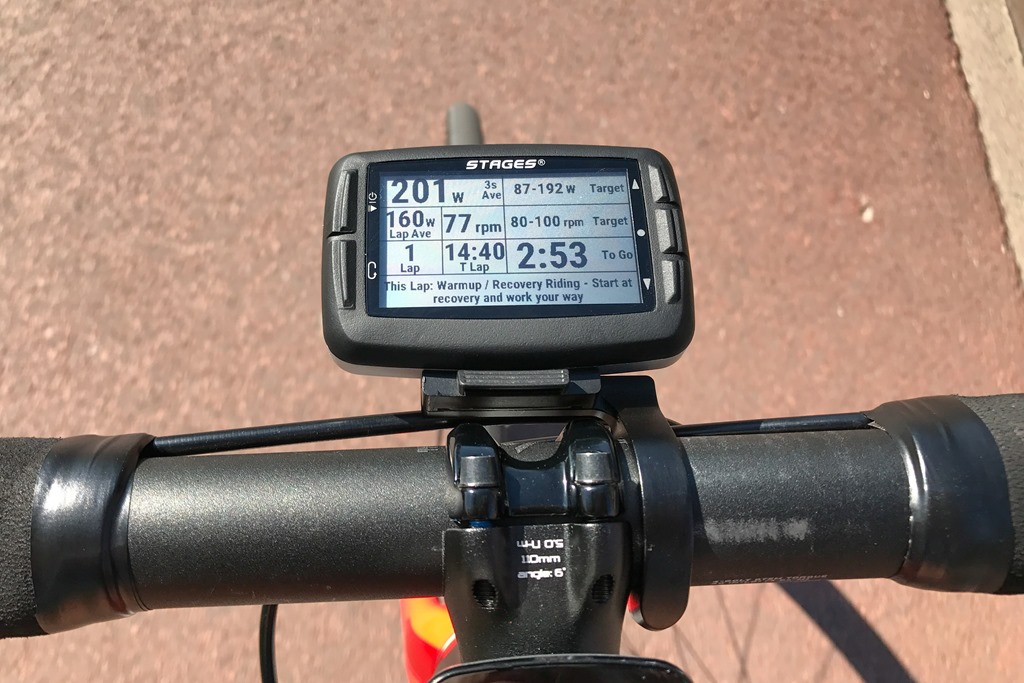 Customization – How much data can you show on one screen?  16 things!  Modify it how you like.  So much here to love here.  All of it is configured from website and sent to device through phone app.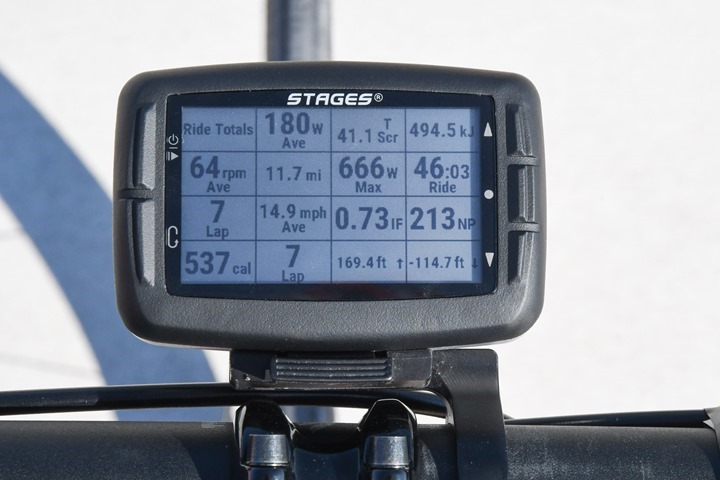 Seamless integration with power devices, head unit and online platform.  Bluetooth uploads through your phone and its all there for you to geek out on.  Stages power meters quickly synced with the device hassle free.  Quick zero resets prior to ride and track all this data through the online platform.
Battery Life – Seriously, 30+hrs?  Can get through 2-3 weeks of training on one charge!
Not so great
The following are based on my own experience and preferences.
Mount – It took a while for this mechanical engineer to figure out how the Dash actually attaches to the mount.  It takes quite a bit of force to get it to lock in too.  You really have to press hard to get it to lock in and out.  This is good in that you know it will be secure when riding but to me it seems like an inelegant way to secure the device to your bike.  Unfortunately, I managed to pinch one of my cables one day when I stuck the device on.  That was annoying.  Also, the clip is blue…which doesn't match my bike color scheme.  #sadface.  3rd party mounts coming…
SLOW GPS Acquiring – In one case it took 20 minutes for the Dash to figure out where in the world it was.  At home, it has taken 15 minutes of riding around in the neighborhood to figure out where it is at.  I read that you can set your home somehow and this will help quicken up acquiring GPS but this doesn't necessarily help you if you're getting dropped off somewhere and doing a 1 way ride home.  20 minutes!
Lacking Turn by Turn Directions – Yeah, I don't use TBT very much but when I do venture into new areas its nice to have an idea of where the heck you are without stopping and pulling out the phone.  This weekend I chose to ride back from a race but without route guidance I spent a lot of time stopped and on my phone.  Note, that as a work-around you could use route guidance on your phone, and receive push notifications…assuming you pay the $200/yr for premium features!
Pay to play – I was hoping that this was not going to be an issue but unfortunately most of the worthwhile features are not free.  No push notifications, messaging, or training plans.  From a data perspective you get the ability to upload and view basic ride data.  Advanced ride data and performance analytics are only available through the premium membership (as well as a few other features).  This means if you actually aim to do anything useful with your power data then you will need to pay for a premium membership.
Lets talk about this one…
I currently use Golden Cheetah and because my Garmin is failing me I have a pretty messy workflow.  All data is uploaded to Garmin connect, where I then download to my local computer and finally into Golden Cheetah.  Three main things I track are:
PMC (Chronic Training Load, Acute Training Load, Training Stress Balance).
Time in zone (weekly totals)
TSS weekly totals and progression
Power bests/progression
I lied, that was four.
Enter stages lync – essentially what looks like TrainingPeaks and with a super slick interface to the devices themselves.  One of my goals was to eliminate all the go-betweens and this would surely do it.  But at the cost of $200/yr or $20/mo?  I hesitate.
Coincidentally, this difference between free and pay features looks surprisingly similar to TrainingPeaks…but training peaks is $119/yr for premium (or $20/mo).
Alternatively you have Golden Cheetah, free but not as elegant.  There is also the Stravistix plugin, which is free (or by donation) and even this has a PMC fully integrated into Strava!
Bottom line feeling is that $200/yr is too high.
One more not so great…
Seamless integration with platform or software is lost a bit since the ride file is *.RDE and the ability to download FIT from Stages Lync is a premium feature.  Again, pay money and this isn't an issue.
I had a lot of trouble with this one.  When I first got the device I could not get my computer to see it, therefore I could not get the files off.  The files were synced to Stages Lync through the phone app but there is no way to download/export the file from online unless you have a premium membership.
During this time I had the chance to experience Stages tech support…but first I had to get there.
After clicking around the site I got to the support page for the dash and there was a lot of information, which didn't quite help me solve my problem.  Finally, I created a ticket and began talking with Amy, who I coincidentally had met through a friend when she still lived in Portland (now lives in Boulder).  She helped me overcome this challenge.  Eventually, after a restart or two, my computer started seeing the device and things were happy once again.
However, during this whole process, at some point the wrong directory was selected to sync RDE files from and I started getting errors and notice of these errors were sent to my email!  Here's a screenshot when I was at almost 700 emails.  I topped out at over 1000 emails! Ugh!
However, I have to say though that the entire tech support interface and experience was GREAT!  Top notch service.
Final Thoughts
There is lots to love about what Stages is doing.  The Dash device itself packs a lot of power and is definitely geared towards the data hungry user that is interested in training to get to the next level.  If you have Stages power meters and are looking to keep everything cycling in the same family then there is a high level of appeal here.  Training plans, seamless integration to the head unit, and advanced analytics all at your fingertips to take your training to the next level.
However, in the absence of a stages lync premium membership, the device seems to fall a bit short.  Lack of navigation interface/routing, push notifications, and live tracking are some features that even my 6 year old Garmin 810 is capable of, for free.  Riding is not always about training.  Sometimes you just want to go for a ride somewhere new and forget all the data.  You would like the device to help you with this.  You would also like your loved ones to know where you're at, or the buddies you're late to meet up with!
Personally, I'm not a fan of subscription based services.  I mean, if you pay for strava, stages lync and something like TrainerRoad or Zwift then you're looking at almost $400.  To me that seems like a lot of added cost to have access to training and data analysis but I could be in the minority here.  Cycling is a sport for the affluent and perhaps $400/yr on top of everything else really isn't that big of a deal?
In the end, for me, the device seems too early in its life-cycle to justify the cost.  I will look to see what Stages releases in the next few months and perhaps return to the device as I ramp my training for early season racing in March next year.